Long day at the office? Looking to blow-off some steam and relax with a cold drink and your toes in the sand? Maybe a little dancing in the fresh air?
Here is a list of some of the best outdoor spots in Berlin to hang out in during the summer months according to TheLocal.
Sisyphos (alte Hundekuchenfabrik) in Berlin pic.twitter.com/yzra253dWz

— SkyParkSecure (@skyparksecure) March 5, 2016
Often compared in terms of infamy with Berlin's elusive Berghain, Sisyphos is home to some of the most outrageous parties throughout the city. The club, which used to be a former dog treat factory, contains separate spaces. One, a warehouse-style main room, is designated for techno or tech house DJS, while a more house-oriented style to be found in the second room.
As warm weather creeps in, the outdoor space is the place to be however. Lined with eclectic decorations (like, abandoned cars, for example), the large outside area is perfect for hanging out. There are even some food stands to grab a snack if you get hungry from all that dancing!
For a more relaxed vibe, check out Yaam (short for Young and African Arts Market). This club and beach bar transports you to the West Indies with a mix of live reggae, hip-hop and dance hall music as well as some traditional West African and Caribbean food and drink choices.
A multicultural meet-up, during the summer it is considered one of the best locations in the city to chill out, toes in the sand, sipping on a mango beer.
Little Louie Vega rocks Prince Charles Club in Berlin/// pic.twitter.com/gKrBbEJasp

— Podgasim (official) (@podgasim) May 9, 2015
One of Berlin's newer clubs, Prince Charles hidden in a swimming pool for the employees of the piano factory that once occupied the building. Expect a mix of house, electro, techno or hip-hop music on the turntables each weekend. There are also occasional concerts and events.
During the summer, the courtyard area also becomes part of the club, and a popular spot to cool down in an outdoor space from all that dancing! Come earlier in the evening for a quiet drink, or later to get into the full club spirit.
Located on the banks of the River Spree, Watergate is a two-room club with panoramic views of the water, blasting mostly techno and electro beats all night long. Stay throughout the night to catch the sunset. During the summer there is also an outdoor space right on the water.
Sitting along the canal of the Spree in the area of Neukölln, Griessmühle is housed inside a former grain mill. There is one large dance space indoors, a small space in the basement with an eclectic mix of house, techno, disco, you name it!
During the summer, the outdoor area boasts a more grunge vibe, with jumble of second hand sofas and seating, an outdoor bar, an abandoned car and a treehouseesque structure to climb on. Catch an English comedy show on occasion, an open-air film screening and a flea and food market during the daytime.
Unreal #klunkerkranich pic.twitter.com/Sb3ZFrbxIV

— hollie mckeon (@holliemckeon) June 17, 2016
Not quite as much of a club as the others on this list, Klunkerkranich offers a rooftop outdoor space with stunning views of the city below.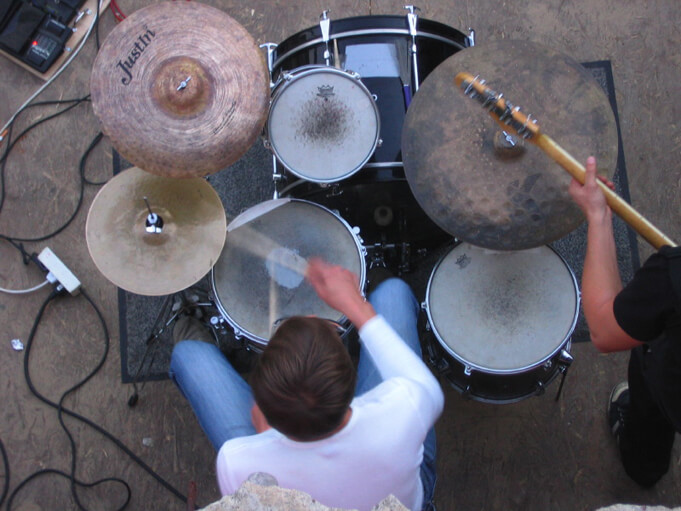 For those looking for a more classic dance scene, check out Strandbar Mitte for swing nights. Each Friday, the bar offers outdoor swing lessons overlooking Berlin's scenic Museum Island. If you're not into swing, they also offer tango, salsa and chaca nights as well! No experience required!