It's no secret Berlin is a street artist's paradise. Now they've found a new playground: an 80-room expanse that was a bank in its former life currently awaiting demolition. Street artists have turned it into a temporary museum open to the public – even boasting a virtual reality exhibit!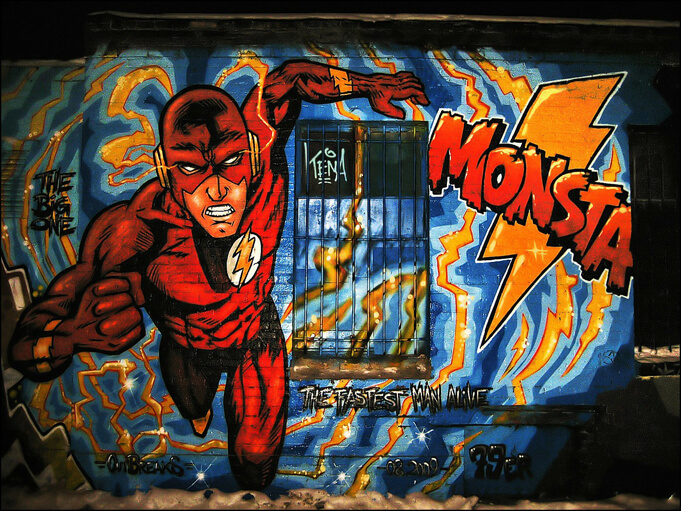 Repurposing abandoned spaces
Die Dixons, a Berlin-based street art collective, organized the unordinary museum – dubbed "The Haus". The members (who go by their aliases Kimo, Bolle and Jörni) have been active members of Berlin's street art scene for decades. They're well known for doing large-scale murals.
They head that the Cologne-Based developer Pandeon was looking for a creative use for the space before it was demolished. They group saw it as a perfect was to bring Berlin's art scene together as well as give life to the idea of how to keep the street art scene alive in a city that is rapidly developing.
"Why shouldn't we put a message out from here to investors saying, 'Hey, come on, if you're doing something in the city, invite us and we can work together," said Kimo.
Pandeon will turn the space into pricey condos, so it's the perfect marketing strategy for them.
Kimo continues: "They are using us and we are using them, so this is cooperation. If this is a good balance, why not have more projects like this?"
165 artists on display 
165 talented street artists have been invited to display their handiwork in the former Volksbank office. The building will be demolished to make way for new residences (badly needed in Berlin). But for now, it's the perfect place to showcase artist's work from all over the globe.
The museum will be open April 1 through the end of May. A sneak peak was given to the residents of the senior citizen home next door. "We want to say that we don't give a s*** about VIPs," says Kimo.
What can you see inside?
The museum is built off a creative mix of English and Germany (hence "the Haus"). Each room was given to artists to do whatever they please with. It's likely that the majority of the interior space will be covered – floors, walls, ceilings – you name it. Artists are also using a variety of mediums, including sculpture and photography to convey their vision.
Some of the big names in the Berlin street art scene – such as Superbad Boys and El Bocho – are also said to be involved.
One room will also feature a unique virtual reality exhibit depicting a room in a Mumbai brothel. Organized by the non-profit group International Justice Mission who rescue victims of human trafficking and sexual slavery, this is mean tot bring more awareness to the issue.
The only rule? 
No photos. "We want to say, 'Hey, come on, don't look at the world through your phone only – come here, get inspired by the room concepts the artists have created," said Kimo.
Hopefully this will continue to inspire innovative ways of bringing life to abandoned spaces.