Want to explore one of Berlin's oldest and more interesting neighborhoods? Head to the Scheunenviertel!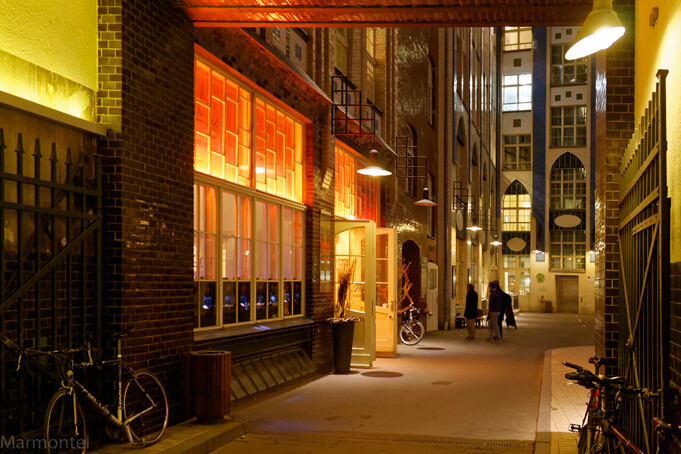 A neighborhood of transformations 
The Scheunenviertel, "Barn Quarter", is a historic section of Berlin Mitte. In 1672, Elector Frederick William of Brandenburg ordered the construction of several barns in this area – located outside the city walls at the time. The barns were mean to store hay, which was necessary for the cattle market at the nearby Alexanderplatz.
In the early 1700s, King Frederick William I of Prussia ordered Berlin's Jewish community to settle here and it is often mistaken as the synonym for the city's Jewish quarter today. In reality this is located in the neighboring area of Spandauer Vorstadt, where the New Synagogue is located. As of recent times, the area has gradually become more populated with the city's Jewish population.
Following reunification the area has become a fashionable district, touted for its winding streets, charismatic vibe and historical features. Today, it's home to some of the city's hippest residents, creative cafes, bars, shops and restaurants.
Shopping, shopping and more shopping
Start your exploration of the area at the Rosa-Luxemburg-Platz subway station. From there head to the Alte Schönhauser Straße, where you'll find a number of small, independently-owned boutiques featuring local designs – anything from fashion to accessories, home décor, art books and moor. Continue onto Neue Schönhauser Straße for a bit more high-end shops. Venture off to the smaller streets such as Mulackstraße or Almstadtstraße for more avant garde local labels.
Enjoy the ambiance
Next, continue on to Hackescher Markt S-Bahn station. This is one of two stations left in the traditional red-brick style. When the weather's nice you can find locals and visitors crowding around tables from cafes and bars that spill into the car-free square. There's also a farmer's market each Thursday and Sunday.
Head to the Hackesche Höfe just across the street for glimpse into the interlinked courtyard style commonly found in this area. Here you can find a number of cafes, local design boutiques, galleries and independent shops.
If you want to get an idea of Berlin life pre-1990, head to the courtyard of the Haus Schwarzenberg. This unrenovated space features street art, bizarre metal sculptures, and a number of studios, offices, bars, a cinema and three exhibits dedicated to the Jewish persecution.
An artist's haven
Head north to Auguststraße and Linienstraße for an exceptional amount of artwork unique to Berlin. Here you'll find galleries such as Eigen+Art, neugeriemschneider, Kicken, the KW Institute for Contemporary Art as well as private collections such as Sammlung Hoffmann, Me Collectors Room (www.me-berlin.com) and Sammlung Boros.
An eclectic variety of cuisine
If you feel your stomach rumbling in the Scheunenviertel have no fear: variety is here. Whether you're looking for a quick snack or a Michelin-star meal, you can find it here. The seasonally-sourced German fare at Pauly Saal is award winning, while the organic-farm-table menu at Katz Orange is as stunning as the setting. Get a taste of Northern Africa with the Moroccan dishes at Kasbah while Chèn Chè is the perfect spot for authentic Vietnamese dishes.