London start-up space provider Techspace announced they've raised £5 million to expand its coworking space to Berlin's booming tech scene.
What is a coworking space?
Fueled by entrepreneurs, freelancers and the tech-industry, coworking spaces have become increasingly popular. Recently, even organized companies have joined in, too.
A coworking spaces is defined as a membership-based workspace in which varied groups of freelancers, remote workers, or other independent professionals work together in a shared, communal setting. These can resemble a traditional office space—with WiFi, fax, conference rooms, café, and kitchen.
Not all coworking companies charge monetary fees, either. Workers at Gangplank, for example, don't pay with money. Rather they follow pay-it-forward model in which users "pay" with their time and talent—teaching a class or seminar, mentoring others, etc.
Co-founder Derek Neighbors says:
"We believe that the 21st century economy will be largely fueled by capital other than monetary capital. Meaning influence capital or social capital, human capital—we believe that those are going to be much more powerful as we shift from an industrial to a knowledge-based economy."
What makes coworking spaces attractive?
A survey by the Harvard Business Review found a few reasons that workers are flocking to these shared working spaces at ever-increasing rates.
1. People who use coworking spaces see their work as meaningful.
Freelancers in general choose to work on projects they care about. Unlike traditional offices, people working in the coworking space are also working on completely different concepts and projects, for different companies. There is then little direct competition or internal politics, allowing people to feel more comfortable being themselves—without a "work identity".
2. Workers have more job control.
Many coworking spaces are open 24/7, giving people the option whether to work all day to make a deadline or just a few hours to leave time for other activities. Usually, people can also work in a quiet space, or a livelier collaborative one. The survey also found that while workers value their autonomy, they equal value some structure in their professional lives. Coworkers reported that having a community place to work creates structures and discipline to motivate them. 
3. They feel part of a community.
What makes people pay to use a communal workspace rather than work from home or go to a local coffee shop? HBR says that the connections with others is a significant reason as to why coworking spaces thrive. Furthermore, each space, depending on a variety of factors, will have its own personality, creating a unique experience for members. In Grind workspaces, for example, "staff knows all of their members by name and profession".
Techspace's plans for Berlin 
Currently, the company has five coworking spaces throughout London. Berlin will be their first overseas location when it opens towards the end of 2016 in the Mitte district.
The coworking space is planned to be approximately 1850 square meters, with room for up to 300 members. Memberships will be similar to their London pricing—around €400 euro per month for individual memberships and €12,700 for an enterprise.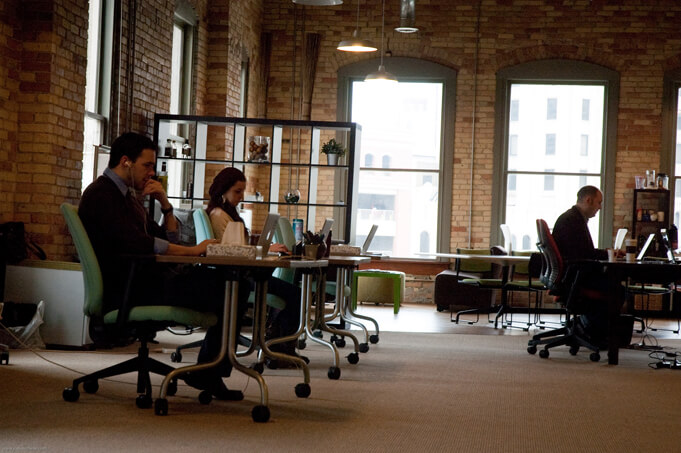 They will also be competing with tow other local startup space providers—Factory Berlin and WeWork. CEO and cofounder of Techspace David Galsworthy is very happy with the decision, saying in a statement:
"Coworking has already grown exponentially over the past few years. There's been a huge, global shift towards flexible, collaborative workspaces, particularly in technology. We empower our community to focus solely on growth and innovation, leaving workspace considerations to us. This investment will enable us to continue supporting tech companies in their growth beyond being startups, develop our offerings in London and also expand to Berlin – a destination that makes perfect sense given the city's established reputation as a hub for technology innovation."