Check out one of Berlin's best new breweries – but go quick, it won't be there forever!
An innovative building material
Berlin is famous for defying the norms. And building a brewery out of shipping containers? Yep, that's right up there.
Using shipping containers as a construction material is a relatively new concept – it was essentially developed by the architecture firm Graft. This innovative firm was founded in Los Angeles, nearly 20 years ago by Lars Krückeberg and two other German architects. Since that time, they've been designing completely modern spaces in cities all over the world – from Malaysia to Dubai, throughout Europe, the US and beyond.
The team at Graft had used shipping containers in previous projects, but it wasn't until they caught the eye of the local BRLO craft beer company in 2012, that the idea to make a complete structure out of the containers was born.
"Part" pop-up 
The BRLO brewery opened its doors to the city in the trendy Kreuzberg district just a few months ago in a formerly empty plot on the edge of Gleisdreiecke Park. The modern industrial steel façade of the brewery is against the norm of the typical German beer hall. If you're not sure what we're talking about think Hofbrauhaus.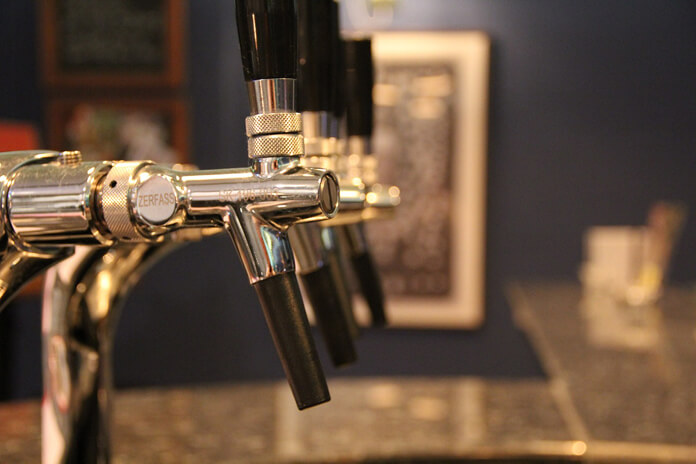 But the concept of the structure speaks so clearly to the changing times. Especially in Germany, architects are trying to think of new ways to re-use and re-purpose materials. Upcycling is the ultimate goal – reducing waste and creating sustainable structures.
And the really cool thing about BRLO is that it's totally flexible. The building is essentially designed like a game of LEGOs – stacked on top of each other. But, this also means they can easy be taken down and moved somewhere else.
"The flexibility makes it beautiful," says Krückeberg.
Containers are also a cheaper option than the typical building process, and allow construction to be completed much quicker. And according to Krückeberg, the idea of "pop-up architecture" is not entirely new.
"Pop-up architecture has always existed – think about medieval marketplaces, or in Renaissance Italy – just not that much. But more and more people are doing it," he says.
The idea of being able to transform easily is also fitting for Berlin, a city that has undergone massive changes over the past century.
"It's always great if you can think about cities in a different way, that they can be a little bit lighter and they don't have to be built in stone to be forever. They can be built to change," adds Krückeberg.
Oh and did we mention their beer is phenomenal and food delicious?