Looking for delicious, eclectic and interesting street food in Berlin? You've come to the right place. As a city that boasts so much cultural diversity, it's hard to imagine the street food wouldn't be epic – a varied mix of German classics and dishes from throughout the globe. Here we list three food markets that will have anyone who likes to eat begging for more!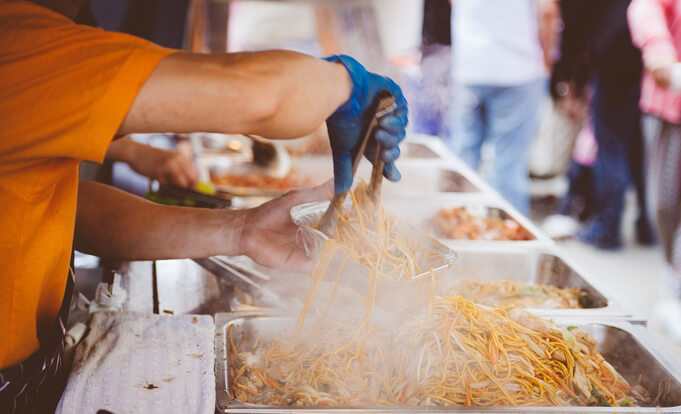 The folks at Bite Club keep things interesting by moving around the city, making guest appearances at big events such as the Berlinale or the Berlin Food Week, and keeping everyone guessing where they'll pop up next. During the summertime, food stalls sprawl out into the streets, typically in Kreuzberg. Here you can find a number of the city's top food vendors serving up anything from experimental cuisine to good ol' fashioned BBQ. There's typically a party-vibe to their set up, with a DJ spinning records as you mange down on Irish pies. Oh, and you can also hire them for your next event, too!
Long before street food was cool, Berlin's Thai families have gathered in the Prussian Park in Wilmersdorf area of West Berlin to relax, cook and sell their delicious food. Here you can watch the women prepare the dishes fresh – anything from noodle soups, Som Tam (a salty, spicy papaya salad), curries, breaded fish, dumplings, skewers, spring rolls and much more! You buy everything directly from the cooks themselves, which means the food is also really authentic – and the perfect way to spend a summer weekend in Berlin!
Street Food Thursday 
A list of street food in Berlin isn't complete without the mother of all food gatherings: Street Food Thursday. Located in the Markthalle Neun in Kreuzberg, this event attracts vendors from all over the world. Taste some spicy Mexican tacos, Tibetan Momos or some authentic Allgäuer Kässspetzen (trust us, it's delicious). And if you think it's the same recipes each week, think again. The range of vendors changes each week, with the most popular gaining a long-term residency. Oh, and did we mention when you finish with the food there are also tons of craft beer, delicious wine and cocktail bars to quench your thirst?
Bonus: At the same venue you can also find a weekly market Friday and Saturday that features regionally grown products, handmade sausages, freshly baked breads, fish, meats and cheeses as well as international ingredients such as a Mediterranean delicatessen (also selling wines) and much more! Oh and did we mention they also have a weekly lunch menu?