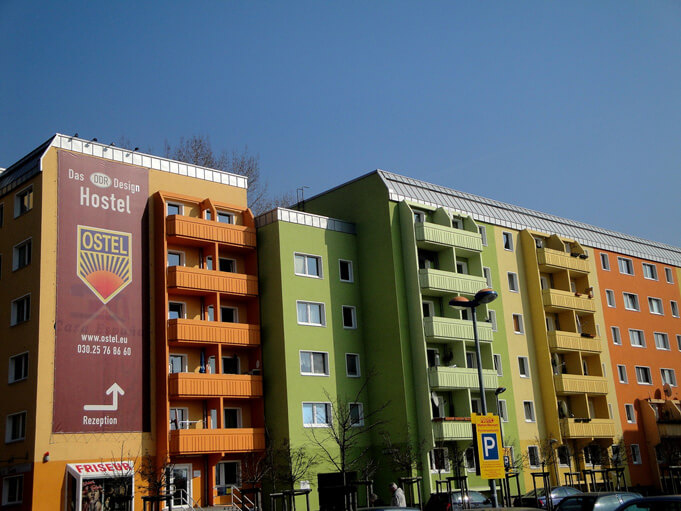 Want to transport yourself back to life in the GDR? Okay, well maybe just for one night. Since 2007, a Berlin-based hostel has been serving up a side of life under Soviet control – including a dash of Erich Honecker, multicolored floral wallpaper, and authentic GDR furniture.
Where did Ostel begin?
Derived from the German word for east, "ost" and hostel, you've got "ostel". It started with a partnership between two German entrepreneurs, Daniel Helbig and Guido Sand – both of whom grew up in East Berlin. There's a huge market for "Ostalgie" – nostalgia for the days of socialism before the fall of the Berlin Wall. With the release of success German films about life in the GDR, such as "Goodbye Lenin" and "The Lives of Others", international attention has also been stirred up.
Features of Ostel 
Inside the hostel, visitors are greeted with authentic GDR furniture, memorabilia and souvenirs. They've also begun selling GDR-era products to hostel guests, including a photo of Communist Party leader Erich Honecker. The founders say they spent weeks looking through the many flea markets and online to find authentic pieces from the era.
They've turned the tea room next to the reception in a mini museum of East German Life. Artifacts like plastic and plus toys and pennants for East German football teams are also featured.
Ideally, the founders wanted to give visitors a glimpse of what life may have looked like in East Berlin. "We want to show visitors to Berlin what East German apartments looked like. Sometimes we even get East Germans who want to experience a bit of the old times — times that were snatched away from them too quickly," said Helbig.
Staying at the Ostel
 The hostel offers something for everyone – if you're on a tight budget, or looking for a little luxury. Choose between a single room, double room, or apartment – with the choice of a private or shared bathroom.
Want more information? Find it here.