One of Berlin's most popular spots – the Alexanderplatz – is a must see sight for any trip to the city. But where did it come from? What can you see there? And what's it all about? Find out here.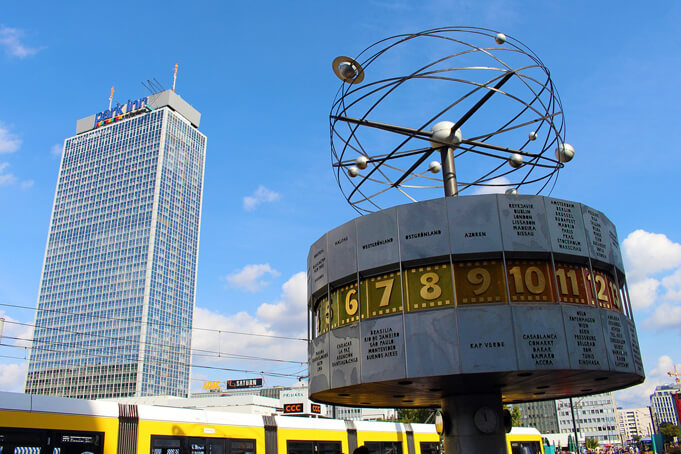 From a humble cattle market 
It's hard to believe that the heart of Berlin was once a place for cattle to be bought and sold – but it's true! During the Middle Ages it was located outside of the city fortifications. From there, it was used by the military as a parade square an exercise ground for the barracks nearby. The square was named Alexanderplatz to honor the Tsar of Russia, Alexander I, when he visited Berlin in 1805 by King Frederick William III of Prussia.
In the late 19th century, the plaza became more vital to city life as a Stadtbahn (railroad) station by the same name was constructed here. In 1904 the department store Hermann Tietz opened on Alexanderplatz, firming cementing it as a commercial hub in the capital city. During the 1920s, the area flourished. Together with Potsdamer Platz it was the epicenter of Berlin's nightlife.
The epitome of Berlin's history
Following the end of WWII, Alexanderplatz was under East German control. During this time, many of the buildings you see there today were constructed – especially in the 1960s. It was enlarged into a pedestrian zone as part of the GDR's effort to make it the center of East Berlin. Several tall buildings also went up – as the government's effort to demonstrate how great life was in the GDR. Most notably, these include the 123-meter tall "Hotel Stadt Berlin", the "Haus des Lehrers", the "Haus des Reisens" and the TV Tower, the second tallest structure in the EU. During the Peaceful Revolution in 1989, Alexanderplatz held the largest demonstration in the history of East Germany.
Following reunification, Alexanderplatz continues to reform
Although it's not long the heart of Berlin, since the reunification, Alexanderplatz has undergone a slow process of renovation and rebuilding. It's retained its socialist aesthetics – such as the "Fountain of Friendship between Peoples" – but also introduced new, more modern structures planned for the near future.
What to see at Alexanderplatz today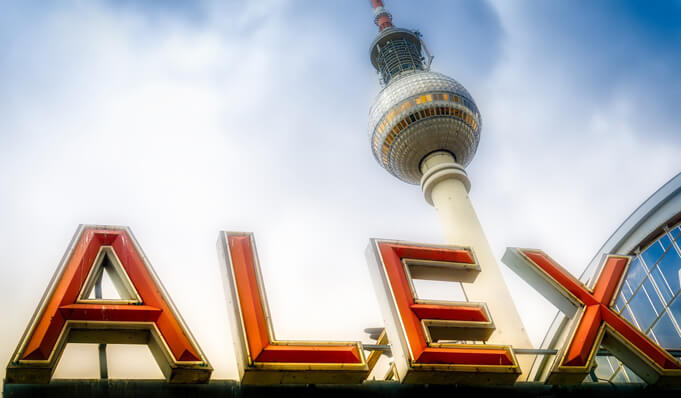 Today, the most visited site here is probably the TV tower. Standing 365 meters tall, it has a rotating observation deck and restaurant on the top. There's also the World Clock, which keeps tabs on cities throughout the globe. As well, there is a number of shops, a large shopping mall and movie theatre that is frequented by people every day.