Ever thought you would spend New Year's Eve in Berlin? Check out the city's most popular spots to celebrate New Year's Eve (or Silvester, as it's called in Germany)!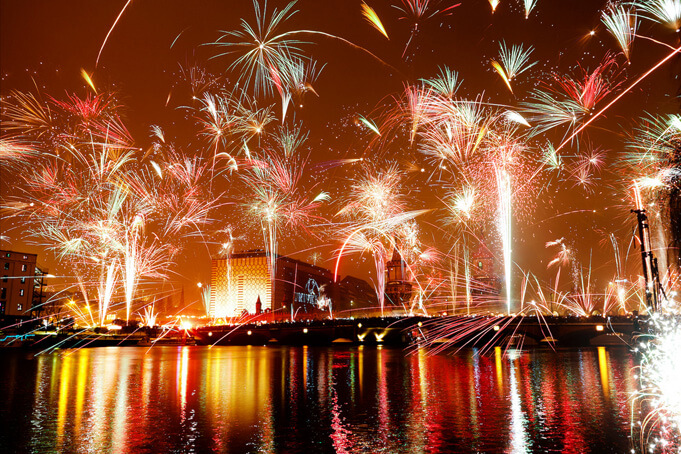 Brandenburger Tor
Each year, roughly 1 million people crowd into the plaza below one of Berlin's most famous sites. Beginning at the gates of the Brandenburger Tor all the way to Siegessäule – a distance of approximately 2 kilometers – you'll see people crowded around the various stages, live music shows and bars. The party first kicks off on December 30th, with some of the various performers practicing on stages from 14:00 to roughly 20:00.
The official start is at 19:00 on the 31st, however – but if you want to get a good spot make sure to arrive well before this time. The city's infamous countdown on New Year's Eve also takes place here with coverage from all the biggest TV stations in Germany. Albeit probably the most crowded spot in all of Berlin, ringing in the New Year at Brandenburger Tor is a once-in-a-lifetime experience you won't want to miss.
The Kulturbrauerei
Want to get down and dirty with some of Berlin's most epic nightlife destinations? The Kulturbrauerei is essentially a courtyard near to the Eberwalder Strasse Ubahn station in the trendy Prenzlauer Berg. Come New Year's Eve, it becomes the largest indoor party in all of Berlin. By purchasing one ticket, at the cost of €29 each you can have access to 9 different clubs and 15 different dance floors. No matter what type of music you prefer, expect to hear it blasting out of at least a few of the speakers at the Kulterbrauerei. This is especially ideal if you go with a big group that likes all different types of music and styles.
The Astra Club
Located on the banks of the Revaler Straße, The Astra Club hosts an electric New Year's Eve party to carry you right though into 2017. During the year, it regularly hosts great parties and New Year's Eve is absolutely no exception. For €30, you can get access to a solid DJ lineup. The party starts at 23:00 and runs through 9:00 the next morning, so dancing through the night is definitely a possibility (and expected, if we're being honest).
Zitadelle Spandau 
If you're looking for something a little more low-key, check out the Zitadelle Spandau. It's one of Europe's most well maintained castles, hosting a fun New Year's even perfect for all ages. Besides the impressive scenery as the castle appears to be floating on water, there's a stage with live performances and tons of activities to make this a family-friendly New Year's you won't forget. Even though the castle is a bit outside of the city, it's easily reachable with the public transportation system.
If you're still not sure where to ring in the New Year, check out the city's list of places. Enjoy!