Berlin's TV Tower (Fernsehturm in German) is one of the city's most iconic sites. It sits right in the heart of central Berlin, near the Alexanderplatz in Berlin-Mitte, and is easily visible from many parts of the city.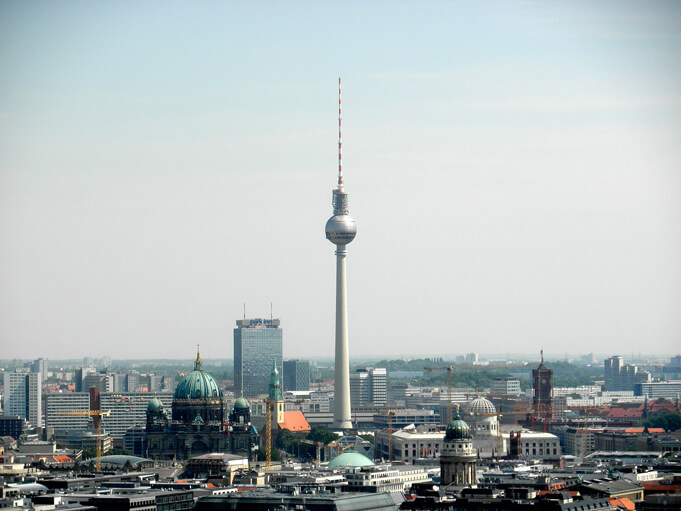 A symbol of Berlin – a traditional that continues today
The tower was constructed between 1965 and 1969 by the administration of the German Democratic Republic (GDR). The tower rises to a total height of 365 meters, but rose 3 additional meters with the installation of the new antenna in 1997. It's currently the fourth tallest freestanding structure in Europe and the highest in Germany.
It was inaugurated on the third of October 1969, just shy of the 20th anniversary of the GDR. It was meant to be a symbol of the superiority of the socialist societies, demonstrating that a better future was being built in the east (you could see it from the west).
While the GDR is long gone, the tower still stands tall and has become a landmark not for Berlin, but for all of Germany. Each year more than one million visitors from all over the world venture up to the observational level, getting a spectacular view of the eclectic and constantly evolving German capital.
Visiting the TV Tower today
If you plan to visit Berlin, you definitely won't miss seeing the TV Tower – at least from the outside. Should you choose to venture inside, there are a few sights to see. Firstly, the visitor platform (also known as the panoramic floor) is located at a height of roughly 200 meters above the ground and provides views of up to 42 kilometers away on a clear day. Good luck with that in Berlin, but hey, you could get lucky! Inside there is also a restaurant located just above the visitor platform, called the Telecafe, which rotates every 30 minutes.
From the observation deck, visitors can enjoy some of Berlin's most iconic sites including the Charité hospital, the Tempelhof airport and more. If you put a coin in the telescope, the Brandenburg windmills also may come into focus!
It's recommended to purchase tickets ahead of time online. This is especially true on clear days, and if you plan on visiting the restaurant.