Anyone visiting Berlin will be happily surprised that food prices are relatively lower compared to other German cities like Hamburg or Munich. Really, it's true! In Hamburg you're lucky to find a döner under €4. In Berlin–the city of budget eats–that's expensive.
What's Berlin's culinary scene all about?
So anyways… Berlin's culinary scene isn't really like other places in Germany. It's significantly shaped by the massive amount of international residents. You can expect to find authentic Middle Eastern, Asian, South American and even some pretty top-notch burgers, too. The variety is really incomparable.
Oh, and Berlin is probably the European capital for vegans and vegetarians as well, with tons of innovative and interesting options to choose from.
As well, there are still many restaurants serving traditional "German" food (though what many foreigners think of as "German" is actually Bavarian). In any case, there are plenty of places that serving food that is considered authentic Berliner cuisine.
But what should you really eat on a visit to Berlin?
Here are three budget eats that will leave your taste buds more than satisfied and definitely eager to for more. Stay tuned for the next article about three "splurges" you've got to try!
Best budget eats in Berlin:
Currywurst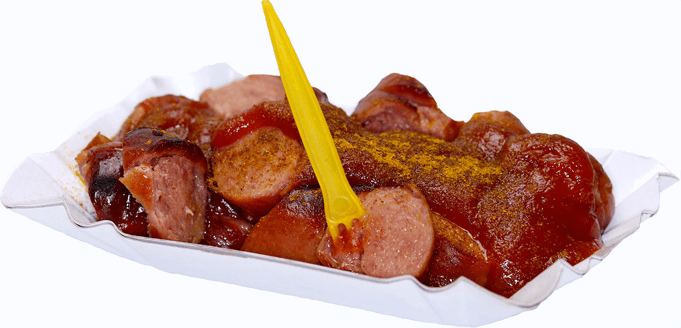 There's a rivalry going on whether currywurst first came out in Berlin or Hamburg. Anyone in Berlin will tell you it was invented by the local Herta Heuwer back in '49. But in any case, it's delicious, a definite staple on the list of budget eats and a must-try on a trip to Berlin. Essentially, it's made up of a pork sausage that is steamed and then fried and drizzled with curry-flavored ketchup. Sounds pretty good, right?
Where to find it?
There is currywurst on every corner in Berlin. According to the locals, some of the top places are Curry 36 in West Berlin and Konnopke's Imbiss on the east side.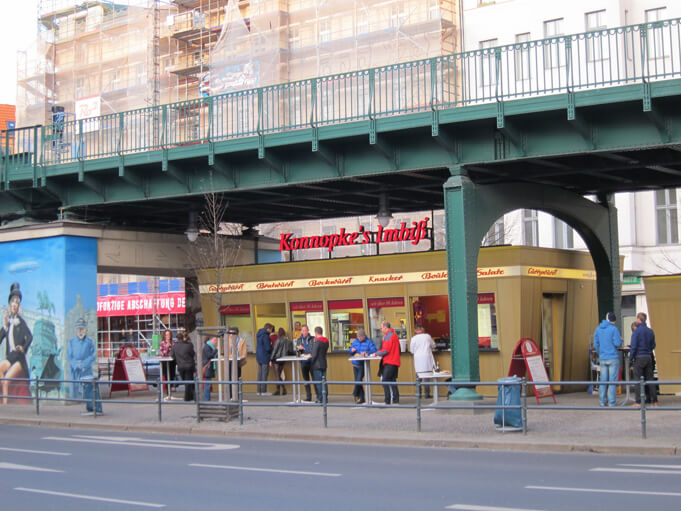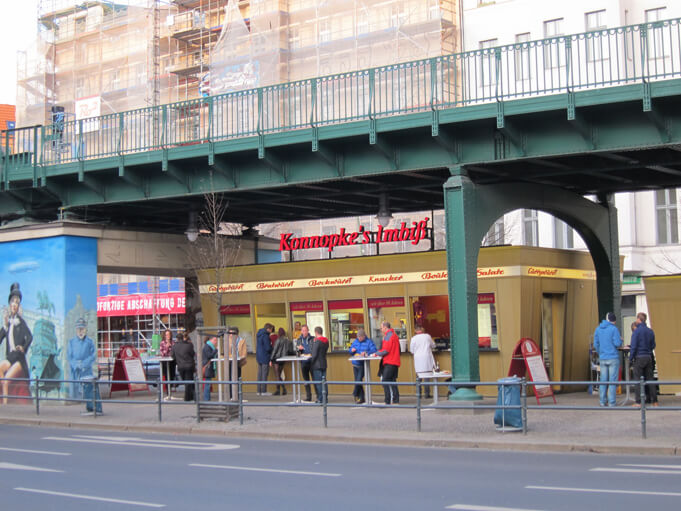 For the hottest currywurst around (and it's really freaking hot) head to Curry & Chili in Wedding for a taste that is off the charts—literally.
Döner kebab 
Perhaps as frequently as you'll encounter a currywurst stand, those trusty döner kebab shops are lurking around every corner. How to recognize them? The rotating stacks of meat, of course! Legend has it that the döner kebab was first "invented" by Turkish immigrant Kadir Nurman in the early '70s. He simply put the Turkish meat with salad typically served on a plate into a pocket of fluffy bread and—boom—a revolution was born.
In reality, sandwiches like these have been eaten all throughout Turkey and the Middle East for decades before, but anyways, it's a legend, right?
Where to get it?
Although your possibilities are nearly endless, the best döner in the city is said to come from a few places (depending on who you talk to). Imren is famous for their super delicious, high quality meat. Mustafa's Gemüse Kebab is always topping the lists and is probably Berlin's most famous spot (with the lines of people waiting for food to prove it.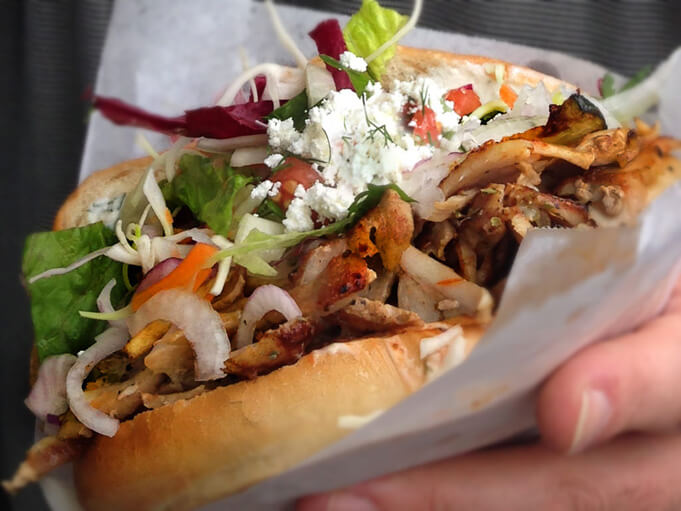 Rüya Gemüse Kebap is famous for their delicious chicken kebab and Tadim in Kreuzberg is known for their superb veal kebabs served in a crispy, yet fluffy flatbread.
Berliner 
No, we're not telling you to take a bite out of a local resident. The world Berliner actually means doughnut—specifically jelly filled—in West Germany (yet it's called a pfannkuchen in Berlin itself—though that actually means pancake in all other parts of Germany).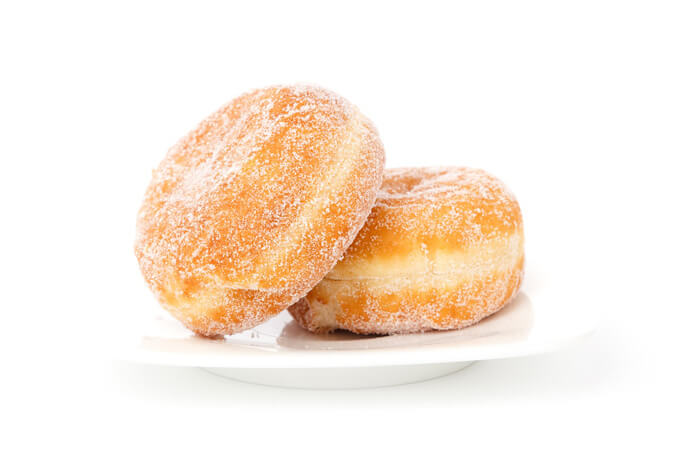 Anyone who's spent some time in Germany can attest to the seriousness associated with sugary baked goods. (Kaffee und kuchen is pretty much a necessity). So when you're in Berlin, make sure to test out some of the most delicious varieties of doughnuts the German capital has to offer.
Where to find the best? 
Bäckerei Siebert is an institution, opening in 1906 and serving award winning pastries like their "golden pretzel" ever since. Test out the traditional Berliner—a plum jelly filled doughnut—or go for something a little crazier like the Eierlikör Pfannkuchen. It's filled with rich custard spiked with brandy and topped with mouthwatering chocolate icing.
Bäckerei Ladewig has been family-run since the 1970s, serving up ginormous doughnuts weighing in at a hefty 500 g apiece! Don't worry, you can get the regular size, too.
For budget eats a little out of the ordinary, head over to Bäckerei & Konditorei W. Balzer for a pretzel doughnut—deep fried and covered with icing. Though it's just a short distance from the busy (and touristy) streets of Mitte, this 100-year old bakery doesn't skimp of quality or tradition.