The Staatsballett Berlin is Germany's largest classically trained ballet company. The dancers have startet a petition against the appointment of Sasha Waltz and Johnannes Öhman as co-directors.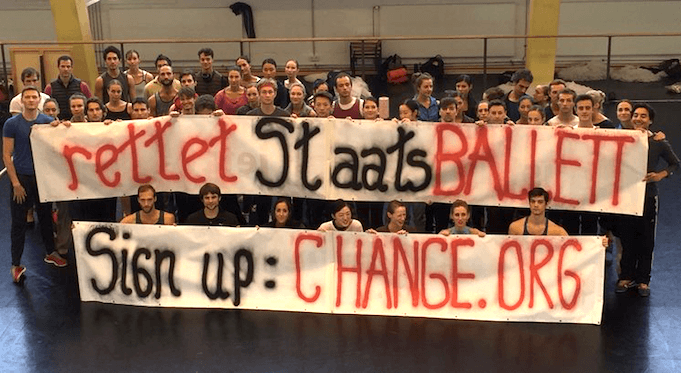 The Staatsballett Berlin is currently Germany's largest and Berlin's only classically trained ballet company. Together with its preceding institutions it has a classical tradition of more than a hundred years. Therefore we, the dancers of the Staatsballett Berlin, reject the appointment of Sasha Waltz and Johnannes Öhman as co-directors of the Staatsballett from the 2019/20 season on.
Unfortunately the appointment has to be compared to an appointment of a tennis trainer as a football coach or an art museum director as an orchestral director. This decision by Michael Müller and Tim Renner demonstrates their complete ignorance of the traditions and lines of development of dance and ballet in particular.
Also special mention must be made that such an appointment to be announced publicly three years in advance is not only unheard of in the world of dance but also disruptive and insulting to the company. That this announcement comes in the middle of an election campaign leads us to believe that it is politically motivated rather than artistically, again showing a profound lack of respect for our company, our traditions, our art form, and our audience.
We outright reject the idea of having dually appointed directors. A candidate should be found with a clear artistic vision and relevant experience to consolidate the company, leading in one direction. To this point we also request a fully appointed Intendant and not a board of three directors as we have now.
We respect the work of Sasha Waltz
We respect the work of Sasha Waltz but find her completely unsuitable to lead our company. Sasha Waltz is a choreographer of dance theatre. This form of stage dance needs other artistic qualities than those which a classically-educated ballet dancer has developed and is dedicated to.
The appointment of the artistic direction of the Staatsballett Berlin by Sasha Waltz even in part would seriously damage the image of the Staatsballett as a worldwide renowned classical ballet company, not only from the point of view of the public but also and especially from the view of classically trained professional dancers and choreographers.
Considering these facts, we ask the Governing Mayor and Senator for Culture, Michael Müller, and his Secretary Tim Renner to recall this decision immediately. We strongly suggest the Stiftungsrat of the Stiftung Oper in Berlin to not ratify these decisions under any circumstances.
Rather, a selection committee should to be set up which finds a single ballet director for the Staatsballett Berlin for the succession of Nacho Duato after the 2018/19 season.
In addition to representatives from politics and administration, we strongly suggest this committee should also include ballet and dance experts, but in particular also representatives from our ensemble. After our past experiences and treatment, we request an active role in finding an Artistic Director.
We, the dancers of the Staatsballett Berlin, call the politicians of the Abgeordnetenhaus of all parties, our ballet colleagues from all over the world, and most importantly our loyal audience to support us in this petition!