Connecting cultural heritages, Multaqa project gives refugees an opportunity to share experiences, memories of home and reminder of post-war recovery.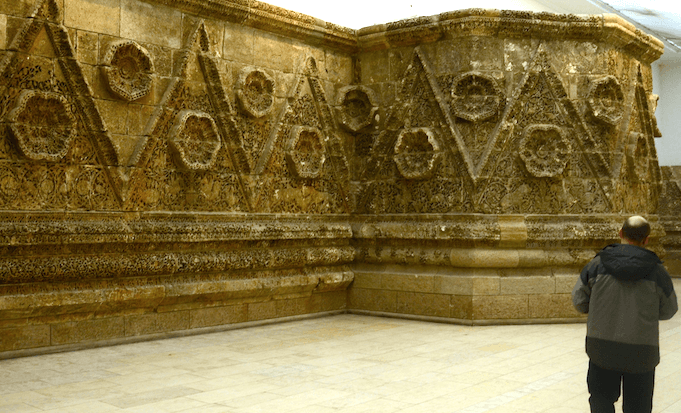 After providing refuge for more than 1.1 million asylum seekers in just 2015 alone, Germany is now shifting gears from emergency relief work to start to integrate newcomers into society. And one project founded in Berlin has shown some impressive success on many levels.
Multaqa: Museum as Meeting Point – Refugees as Guides in Berlin Museums
Beginning in October 2015, a group of Syrian and Iraqi refugees are trained as museum guides to provide guided tours for other Syrian and Iraqi refugees in their native language. The word "Multaqa" (Arabic for "meeting point") encompasses the goals of the Multaqa project: to facilitate an exchange of diverse cultural and historical experiences, attempting to create a connection between Germany's cultural heritage and their own.
The tours take place each Wednesday and Sunday at 3 pm in four museums throughout the city: the Pergamon Museum (Pergamonmuseum), which includes the Museum for Islamic Art (Museum für Islamische Kunst) and the Middle East Museum (Vorderasiatisches Museum), the Bode Museum, which includes the Sculpture Collection (Skulpturensammlung) and the Museum of Byzantine Art (Museum für Byzantinische Kunst) and the German History Museum (Deutsches Historisches Museum).
The meeting point is by the ticket office/info-point of the museum and participation is free, with no need to make a reservation. There are about 20-50 refugees who participate in the tours each week, in which the guide is paid €40 for a one-hour tour. Funding is provided by a non-profit organization, Friends of the Museum for Islamic Art, which allows the employer to circumvent hiring obstacles in which they must prove they are not discriminating against and equally qualified candidate from Germany or the EU.
According to the Multaqa project coordinator, Stefen Weber, the director of the Museum for Islamic Art, this provides a great opportunity for the refugees.
"When people are just waiting around with nothing to do, they can fall into a hole. They feel useless and worthless. But when you give people an important job to do, you also give them a certain status in your society."
A reminder of home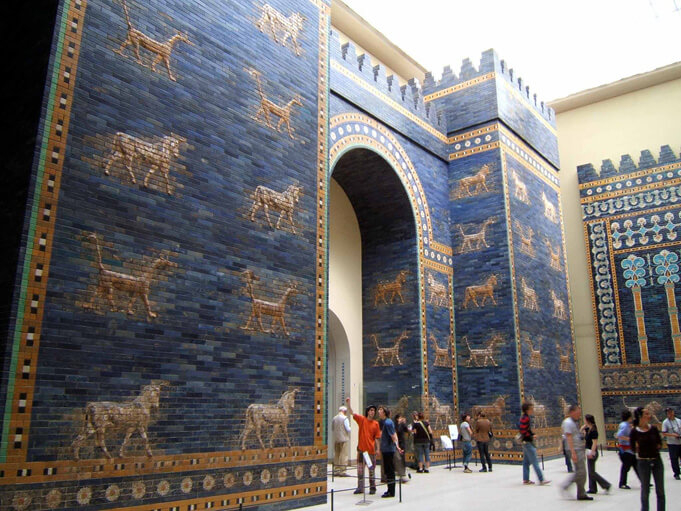 The Ishtar Gate is more than 2,500 years old and was once an entrance to the ancient city of Babylon, located in modern-day Iraq. Today it stands in Berlin's Pergamon Museum, as tall as an office block—awe-inspiring for all who stand before it. For those visitors on the Multaqa tour, however, it is more than a beautiful creation, but rather a reminder of home.
"I could smell the streets of Aleppo, I remembered the color of the light in my room at dusk," says Nadiya Mamo, a 46-year-old Syrian refugee in an interview with the Guardian. 
The Gate is just one of many ancient precious artifacts from the Middle East that are featured on the Multaqa tours. According to one of the guides, one of the first questions they are asked is "how did these end up in Germany?" While the answer may be a bit complicated—in the case of the Ishtar Gate Iraq has repeatedly called for its return—most of the experience is positive.
One student, Aladdin Haddad, an architecture student from Aleppo has been visiting the museum each week since arriving in Germany six months ago. In an interview with the Guardian he says, "This is my civilization. It's great to see my heritage here in the heart of Germany".
Foster a connection between Germany and refugees
Bashar worked in a museum in Syria for over 20 years. After fleeing his home country, he has lived in Germany for six months.
"I would like to pass the idea on to refugees that we should respect the country which has opened the door for us to come, and that we should also be proud of our cultures. When German people give me the chance to be active and practice what I did over the last 20 years, it's not only a chance for me, but it also shows other refugees that you will find very good people who will support you and will give you the opportunity to integrate and start a better life. For me this job in the Pergamon Museum is like a gift." he says in an interview with BBC.
Even today, many of the participants in the tour still live in refugee shelters, waiting for their asylum applications to be processed so they can begin searching for a job.
Post-war recovery
Also a focal point of the Multaqa project is to give refugees the opportunity to learn more about the history of their new home at the German Historical Museum. Specifically, refugees are fascinated by images and video footage of post-war Germany in ruins, according to Stefen Weber. Visualizing how Germany has rebuilt both its cities and economy since World War II shows that is it possible for a country to recover—even with a lifetime timespan.
"The destruction of Germany is for many refugees very important, because they see the country like it was in 1945. It gives them hope that destruction in war is not the end of history. For many it's kind of an eye-opener and it gives hope for the future of their countries," says Weber.