Ever heard of Berlin's "sprayer Grandma"? The nickname is aptly given to 70-year-old Irmela Mensah-Schramm. For the past thirty years she's been removing or covering up 100,000-plus hate graffiti and stickers from all around Berlin and Brandenburg.
Meet Irmela Mensah-Schramm…
The self-proclaimed "Politputze" removed her first hate message back in 1986. The flyer in question proclaimed: "Freedom for Rudolf Hess". Hess, Hitler's deputy was in Spandau prison at the time, serving a life sentence for war crimes that he was convicted of forty years earlier at the Nuremberg Trials.
"The first time I removed a sticker, I felt so good that I had done something," says Mensah-Schramm.
At first impression, one may not guess that the white haired, kindly looking grandmother is also an expert with a can of spray paint. But her activism has not gone without its share of challenges. In the past, she was physically assaulted by neo-Nazis, received death threats and ridiculed by those around her.
She has also been charged for criminal damage and trespassing and threatened with fines by the authorities. On one occasion, she called the police whilst being assaulted by Neo-Nazis. The responding officer told her off for trying to remove the stickers. While hate speech is prohibited in Germany, so is removing posters from public and private property.
And why does she keep going? "If I don't do it, who will?" she asks.
More than 100,000 hate signs removed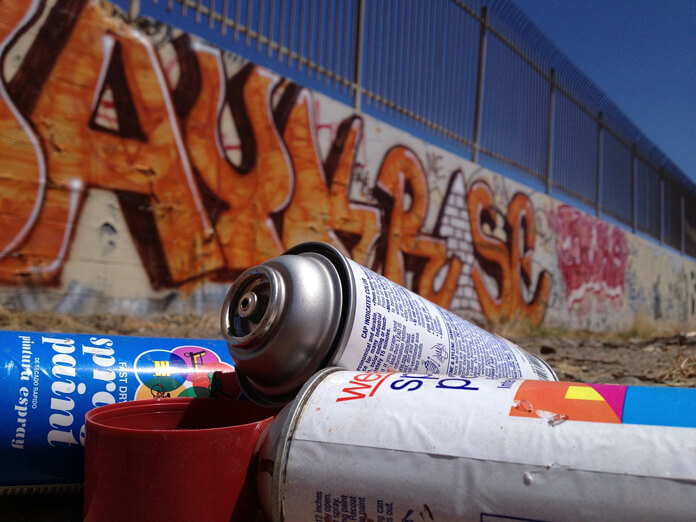 Once she's spotted a hateful sticker or graffiti, Mensah-Schramm will photograph it, then either scrape it off or spray over it.
What kind of messages does she find?
With the recent migrant crisis—in which Germany took in more than 1 million asylum seekers last year—she has noticed a dramatic increase in racist messages. There has been not only an increase in the quantity of racist messages in public spaces, but also the number of groups involved.
"There were also a lot of stickers before the refugee crisis, but they were different," says Mensah-Schramm. "In recent times I've found relatively few anti-Semitic messages because refugees are seen as the new enemy."
She does still find anti-Semitic messages, however. Just earlier this year, she removed one saying: "Jews, off to the ovens". Once a teacher in a school for mentally disabled children, she was deeply affected from visiting a Nazi concentration camp more than 30 years ago. She continues to go back each year to remember the dead.
Mensah-Schramm noted that many of the signs are also in English—in an effort to get the message to foreigners. Phrases such as "Refugees not welcome" and "Stop the asylum-seeker flood" are common.
A trying job
The constant confrontation of such hatred does take a toll on her. "I do this dirty job, and I've recognized that I need to keep my strength up as I have so much more to do, but sometimes when I come home I'm completely beat for a whole next day," she says.
But she's showing no signs of slowing down. She was recognized with the Göttinger Peace Price last year. Just recently, her collection of more than 100,000-plus hate messages are part of the exhibition "Anti-Semitic and racist stickers from 1880 to present day," currently at the German History Museum in Berlin.
She also plans to take her "Hatred Destroys" exhibition around the country to educate people and school children. "Anything that's done to me can be fixed, but human dignity can't."